アカイイトゲーム情報
Akai Ito Game Information
葛
Tsudzura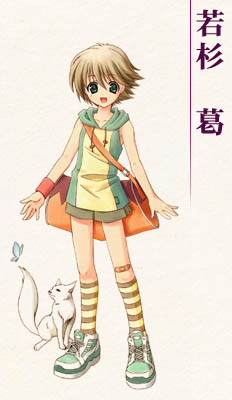 若杉 葛 (Wakasugi Tsudzura)
Role: Girl that had settled in at Kei's Father's house
Height: 134cm (about 4'5")
Profile: Profile: Perhaps in the spirit of her family tradition, "survival of the fittest," a girl of young body and stature on a journey by herself. Even at an age nearly half of Kei's, she is remarkably level-headed. Currently living her tough-as-nails lifestyle with her partner, the white fox Obana, in Kei's father's uninhabited house.
Tsudzura's Seiyuu: 釘宮 理恵 (Kugimiya Rie)
Note: The character pages are adaptions of the official character page, found here.